Description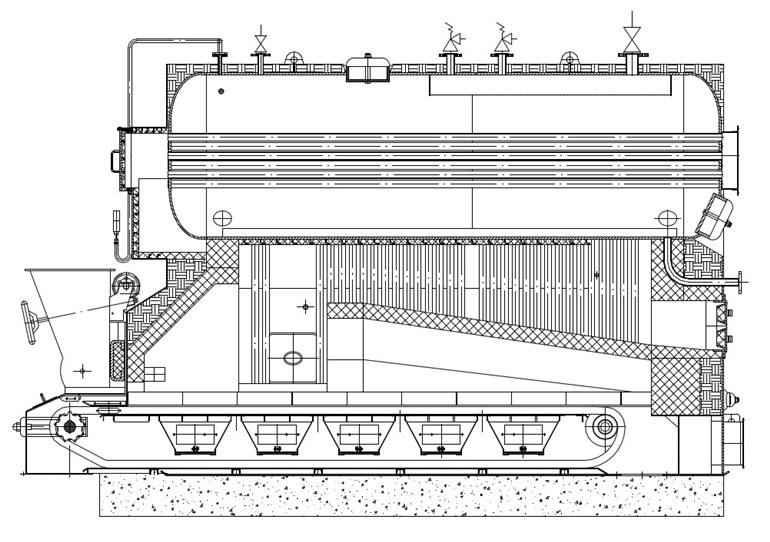 Product description
I.General introduction
1.Model:DZL
2.Capacity:1-20ton/h
3.Pressure:1.0Mpa(10bar),1.25Mpa(13bar),1.6Mpa(16bar),2.5Mpa(25bar)
4.Steam temperature:184 °c,194°c, 204°c,225°c
5.Fuel:coal/biomass/rice husk
6.Structure:horizontal water-fire tube, single drum
7.Type:we have two types.One is DZL chain grate stoker automatic feeding fuel and removing dregs type. Another is DZH hand operate moving grate type which needs labour to feed fuel and remove the dregs.
8.Application:industrial production and processing.
III.Technical datasheet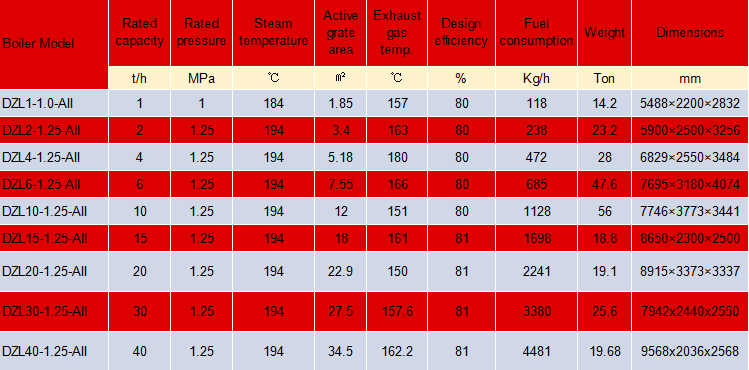 Notice:
1.For other capacity like 8 ton/h and 12ton/h, we can also provide.
2.This table only shows pressure 1.0Mpa(10bar and 1.25Mpa(13bar), we also manufacture boiler 1.6Mpa(16bar) and 2.5Mpa(25bar).
3.The parameters are for reference, we have been improving our technology. If the technology is improved, please refer to the data showed on drawing.
IV.Our boiler advantages
1.Three pass structure.
Function: ectend the flow of smoke and enhance the heat transfer.
2. Water-fire tube type.
Function:Fire tube:the flue goes through furnace, wing-shape flue and fire tubes to form three pass as said in the above.
Water tube: water in some tubes rises after heating and some declines, which forms a natural circulation.
3.Spirally corrugated tube
Function: heat transfer enhancement, reduce the spirally corrugated tube numbers, and improve the suppleness to avoid the tube plate cracking.
4.Arched tube plate
Function: reduce the thermal stress of weld and improve the tube plate suppleness,meantime, simplify the structure and save the boiler room space.
5.Wing-shape flue.
Function:reduce the smoke temperature of high temperature tube plate to slow down subcooled boiling. In this way, it can prevent tube plate cracking, reduce heat load of boiler bottom and prevent bulge.
6.Simple circulation loop, large sized down pipe and bottom container.
Function: Prevent tube explosion , increase the reliability of water circulation ,avoid deposition of debris and dirt,reduce fuel consumption and improving the operating time of boiler.
7.New type arch made with refractory cement by overall pouring and big size furnace.
Function: Reduce fuel consumption and protect the environment.
8.Optimally designed water feeding apparatus and steam separation device.
Function: The optimally designed water feeding apparatus reduces overhigh water level in shell high temperature zone due to overheat
9.optimally designed steam separation device is good for gravity separation, which makes the steam humidity lower than 1%, obviously lower than national standard of 4%;
Small overall dimensions and low boiler room investment cost.
Function: The main heating surface is installed in the shell, and a boiler with less capacity can cancel the rear heating surface. Its overall dimension is obviously lower than other furnaces. The boiler below 100 steam tons (70MW) can be arranged in single layer, making the investment of the boiler room save more than 50% than other furnaces;
10.Complete protection device
Function: deal with the situation of overpressure,overtemperature,water shortage and flameout.